Employee Appreciation Day is almost upon us, and there's a lot to celebrate. Unemployment this year has remained at its lowest point since 2020, averaging at about 3%1. Plus, job openings remain plentiful, with an increase of 11 million jobs just this past December2. It's clear that job seekers have options, and with that, comes an opportunity for employers to differentiate themselves in a crowded marketplace. Though inflation is on the rise and a recession may be occurring this year, employees are looking for more than just a paycheck. In fact, 67% of employees say that rewards and recognition would make them feel more loyal to an employer than higher salary alone.3
If the past few years have taught us anything, it's that the disconnect between employers and employees is real. When it comes to recognizing and acknowledging your employees, you may think you're giving enough recognition-but 58% of employees want more of it.4 In fact, 51% of employees want to be recognized at least quarterly or monthly, and 77% want to recognize their peers.3 Without effective and authentic recognition, your employees could be disengaged-or worse, looking elsewhere for career happiness.
Recognition is always appreciated but brainstorming fresh and fun recognition ideas can be a challenge. In anticipation of Employee Appreciation Day, we came up with five unique ways to celebrate this feel-good holiday so you can prepare with ease.
What is employee recognition?
Before diving into the celebration ideas, let's talk about what recognition is. Employee recognition is genuine open acknowledgment and praise of employee behaviors or achievements, like demonstrating exemplary customer service or hitting a major project milestone. It could also involve recognizing employees' unique traits, like kindness or a positive attitude. Praise is appreciated-and, in some cases, expected-by employees of all career levels, fields, and locations. In fact, recognition has been proven to increase retention, motivation, performance, innovation and trust. Read on to learn how you can recognize your employees on Employee Appreciation Day (or any day!).
5 ways to celebrate Employee Appreciation Day
1. Send a personalized thank-you message to your team
Everyone loves a compliment, and if you're short on time, sending a thoughtful message of gratitude might just do the trick. There are two types of verbal recognition: public, like when praise is given in front of team members, and private, recognition given one-on-one. For employees who enjoy public recognition, consider acknowledging them in a team meeting, sending an appreciation message to the whole department, or posting a message through your company's recognition platform. Private recognition can range from a simple "thank you" in a one-on-one meeting to sending an e-card or email acknowledging specific actions the employee took. Whichever way you choose to send the message, make sure to be as specific as possible on why you appreciate the employee. Not only does this provide positive feedback and reinforcement, but it sends the message (literally) that you've been paying attention.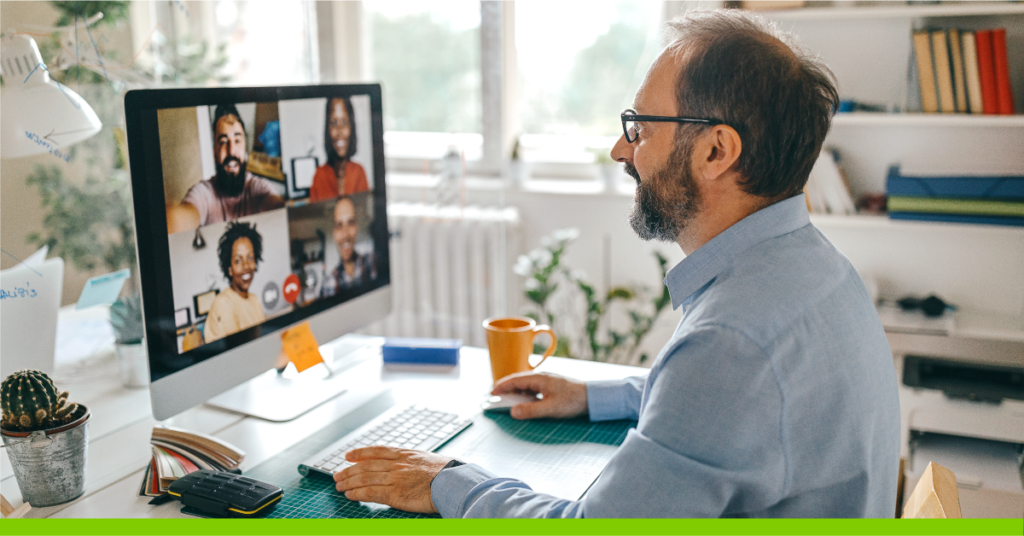 2. Host a silly awards ceremony
Spice up your employee awards program by making sure everyone on your team gets recognized for a funny quirk, personality trait or whatever makes them unique! Here are some examples for inspiration:
Sherlock Holmes: the one that always finds the answers.
Always Caffeinated: whether they're on a coffee run or are always fully stocked in tea, this one speaks for itself.
Best Meme Generator: count on this one to send the perfect meme for any occasion.
Fab and Fit: the one that diligently meets their step counts and encourages others, to boot.
Cubicle/Zoom Background Most Likely to Be Featured on HGTV: is this a cubicle or second home?
You can also give awards that align with your business. For example, if you work in education, you could create a mock report card for your teachers and staff with grades like A+ for Best Art Project Ideas or A+ for Creative Classroom Decorations. For healthcare, you could give your staff awards like Diagnosis: Awesome Bedside Manner or Diagnosis: Most Patient with Patients.
Make sure to keep awards light and positive and avoid using anything that could be interpreted as offensive. After all, recognition is about having fun and showing appreciation for the many talents your employees have, both on and off work.
3. Keep in touch (or out of touch) with quality time
Breaking out of your routine and having a spontaneous outing with your teammates can spark team bonding and creativity. Play tourist for a day by hosting an outing to a museum or other cultural activity or simply get together over food and games like Two Truths and a Lie or Charades. If you work in a frontline field, your employees may not have time to take the day off, so consider bringing wellness treats to your staff lounge. For example, you could hire a masseuse for the day and allow employees an extended break to get a massage in-between patients, purchase a massage chair for your teachers' lounge or give a wellness gift card like Spafinder so they can treat themselves on their own time. To make the day meaningful, involve your employees and ask them what they think is fun through a quick survey or team brainstorm. Alternatively, you could give employees an extra day off so they can spend it as they choose.
4. Organize a mentorship program
One way to show you care about your employees is to provide them with the resources and support they need to grow professionally and personally. Especially among younger generations, many employees want to work with a company that aligns with their values.3 To encourage meaningful work, you could set up a mentorship program through your employee resource groups (ERG's) or by asking senior leaders to volunteer to take on a mentee. Volunteers can take on a single mentee, or if there's high interest, the mentor can take on several in a group. The benefits of mentorship are numerous. According to Forbes, retention rates of both mentors and mentees who participated in a program were higher (72% and 69% respectively) as compared to non-participants at 49%.5
If a mentorship program isn't doable at this moment, remind managers to continue to have regular check-ins about their employees' goals and set a regular schedule that works for them. Maybe a new employee would benefit from a weekly check-in, while a more seasoned team member may only need to meet monthly. No matter the cadence, frequent communication between leaders and employees enhances meaning, development and growth.
5. Gifts: recognize employees with rewards
Money can't buy happiness, but thoughtful rewards can make people feel appreciated. In fact, gift cards and prepaid cards continue to be the #1 requested reward at work.3
Simply put, gifts aren't just for the holidays. Small, periodic rewards can make people feel more appreciated than simply receiving a larger one at the end of the year. For a reward with ultimate flexibility, consider giving Mastercard® and Visa® prepaid cards or Blackhawk Originals multi-brand gift cards with 5 to 8 popular brands. You can also personalize the gift giving experience by choosing a reward that aligns with your employees' interests and writing a note of appreciation.
Whether it's Employee Appreciation Day or just because, we encourage you to ask your employees how they prefer to be recognized and which types of rewards are meaningful for them. Your employees' needs may change over time, so feel free to discuss and iterate as needed.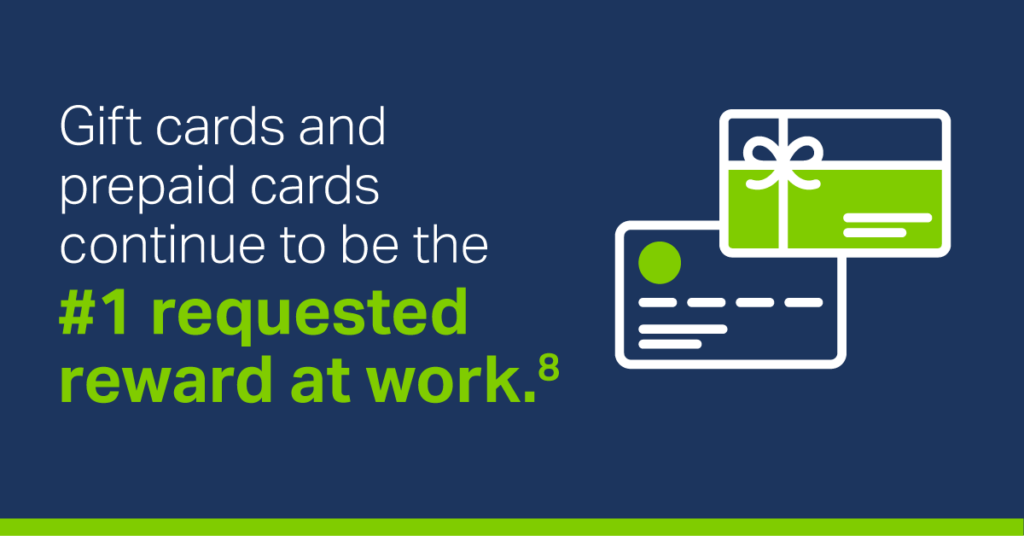 Want to learn more about why employee recognition is critical for boosting retention, engagement and more? Check out this handy infographic for more information.
Talk to Blackhawk Network. We can help you with your employee appreciation efforts. Call 866.353. 4877 or fill out the form to talk to a recognition and rewards expert.
---
1 "The Employment Situation- January 2023." Bureau of Labor Statistics. https://www.bls.gov/news.release/pdf/empsit.pdf
2 "Job Openings and Labor Turnover Summary." Bureau of Labor Statistics. https://www.bls.gov/news.release/jolts.nr0.htm
3 Blackhawk Network Employee Appreciation Study, 2022
4 Son, Sabrina. "12 Mind Blowing Stats on Employee Recognition You Need to Know." TINYpulse. https://www.tinypulse.com/blog/sk-employee-recognition-stats
5 Metcalf, Maureen. "Seven Keys to Creating a High-Impact Mentoring Program." Forbes. https://www.forbes.com/sites/forbescoachescouncil/2019/10/23/seven-keys-to-creating-a-high-impact-mentoring-program/?sh=4b652a1636ac