The holiday season can be fun, fulfilling and meaningful. But for employers and employees, it can be especially busy and, sometimes, hectic.
For employers, it's about getting the work done with a reduced staff, distracted employees and end-of-year demands coming from clients, vendors and corporate offices. Employers need to plan and shop for employee holiday gifts and end-of-year rewards that please everyone and show some meaningful appreciation, as well as plan and execute holiday festivities.
For employees, it's about getting the same amount of work done in fewer days, travel plans and dealing with their personal holiday shopping and visiting family members and loved ones.
The verdict on office Christmas parties
With many companies reopening their office buildings, some employers are wondering if it's time to restart in-person holiday parties. A Blackhawk Network study found that office holiday parties remain the least desired holiday reward among employees.
This survey also found that 84% of employees prefer prepaid cards and gift cards over all other types of gifts. With gift cards at the top of this list, here are the other rewards people prefer:
Inflation Bonus: 48%
Additional vacation days: 40%
Food gifts: 29%
Physical gifts: 28%
Free lunch: 16%
Office party: 15%
We'll talk more about prepaid cards and gift cards as great options later in this article. But here's a hint: If you're considering gift baskets, logoed merchandise or an office holiday party, that may not be the best way to go.
Shortages and out-of-stocks
We're continuing to see merchandise shortages and increasing out of stocks, which means chances of you showing some holiday appreciation for your employees -and doing it on time-are already threatened.
According to Small Business Trends, the nation's ports are seriously backlogged. There aren't enough workers to unload ships at the docks, and there aren't enough truckers to get product to stores, either.
In other words, it's not too early to shop for the holidays.
Delivery delays, too
Although better than last year, shipping delays and slowdowns are expected during the holidays. To make sure gifts arrive on time, FedEx, UPS and the USPS are saying gifts should be shipped much earlier. No longer can you wait until Black Friday to shop, let alone ship.
USPS also recently announced that they are increasing their shipping rates for first-class and priority shipping items during the peak holiday period. For some addresses, these mailings could add 2-3 days to the normal delivery timeline. Fortunately, international mailings will not be affected.
Don't gift another ugly sweater
It seems easy enough to purchase some holiday-themed chocolate, maybe even throw in a bottle of wine or champagne as an extra special treat. But there lies your problem. When you bulk order gift boxes, there is no telling what people are allergic to, dislike or simply cannot stand.
With almost half of employees believing that their employers are bad gifters, the pressure to provide a gift that is thoughtful and useful for all your employees is higher than ever. In fact, Blackhawk Network found that 35% of employees expect a holiday gift from their employer. They also found that 4 in 10 employees would consider joining a new company if they were to give out holiday gift cards. Compared to older employees, younger employees are twice as likely to report this sentiment. Bottom line: giving holiday gift cards could attract and retain younger talent.
But what's worse than not getting a gift at all? Returning an unwanted gift. According to Blackhawk Network, 71% of people are annoyed when having to return or exchange gifts. Instead of associating your company with happiness and joy, a disgruntled employee making a return is robbed of two meaningful moments: receiving a desired and useful gift and getting the happiness of shopping for their preferred gift.
Gift smart-give gift cards
Now that we've covered some of the holiday employee gifting problems, let's talk about smart gifting solutions.
Would it be smart to give your employees the most requested holiday wishlist item for the past 16 years in a row? The most requested items are gift cards and prepaid cards.
Would it be even smarter to give them the most requested kind of gift card? The most requested kind of card is a Mastercard® or Visa® prepaid card.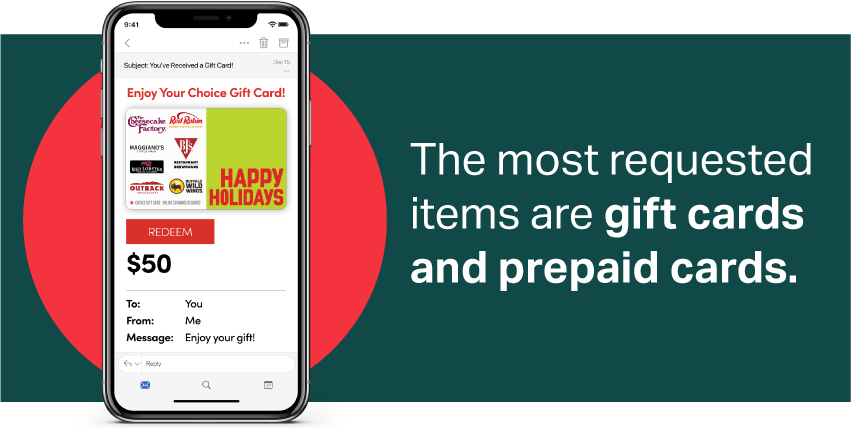 Employees like choice. They like the flexibility and convenience of being able to pick out their own gift and to pick out exactly what they want or need. To emphasize this point, in the same Blackhawk Network study mentioned above, employees had fun sharing their least favorite holiday gifts from employers, including:
A poinsettia for Christmas that had to stay on our desk until the new year.
An award with my boss's name.
An award with the name of the company misspelled.
A desk organizer that was too large for my desk area.
A set of Disney DVDs.
Gift card for restaurant that isn't even within 30 miles of my home.
A fruitcake and a bottle of water in a basket.
Though comical to read, it's not fun to be on the receiving end of an unwanted gift. In fact, 92% of employees surveyed believe that if you don't know what to get someone, a gift card gives the person an opportunity to shop for their own perfect gift. Though it's impossible to know all your employees' preferences and interests, a gift card allows them to choose their own gifting experience.
Welcome to the digital age
More people are using their phones and their mobile wallets for digital transactions-online and in-store-than ever before. In fact, the pandemic accelerated digital payment adoption three years ahead of expectations, with 59% of younger people planning to purchase gifts online.
Also, where digital gifting used to be reserved for last-minute gifting, digital rewards and eGift cards are gaining widespread adoption as preferred contactless reward and payment options.
Going digital for your employee holiday shopping is sure to delight, especially for younger Gen Z and millennial workers.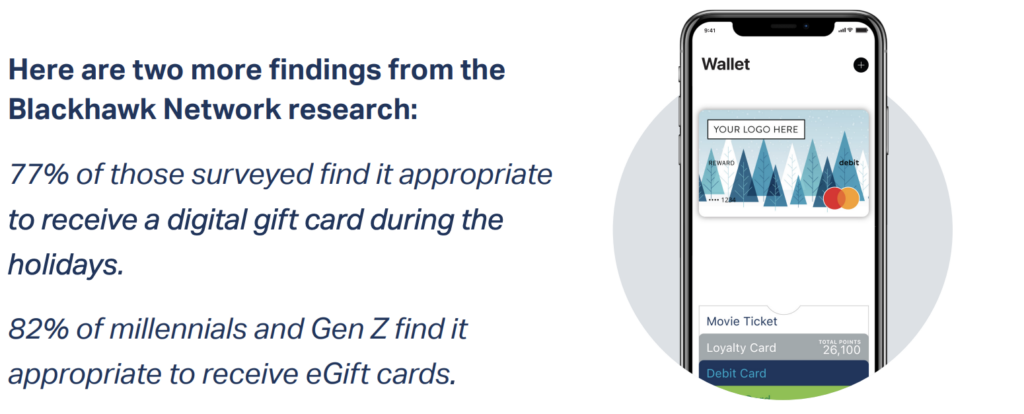 Here are two more findings from the Blackhawk Network research:
77% of those surveyed find it appropriate to receive a digital gift card during the holidays.
82% of millennials and Gen Z find it appropriate to receive eGift cards.
As an incentives and employee rewards industry leader, Blackhawk Network offers a wide range of virtual and digital reward options, including virtual Mastercard and virtual Visa prepaid cards, mobile wallet-enabled Mastercard, exclusive multi-brand Happy Holidays eGift cards and eGifts from top national brands. Blackhawk Network specializes in providing bulk gift cards for your business, making ordering rewards easy and seamless.
Besides convenience and desirability, virtual prepaid cards, mobile wallet-enabled prepaid cards and eGift cards remove all worries about product shortages, shipping delays or out-of-stock disappointments.
The statistics don't lie. As a business owner, you must be moved by data. Luckily enough for you, we've done the research. More and more people are using gift cards every day-so why not make their holiday even more special with a digital gift card?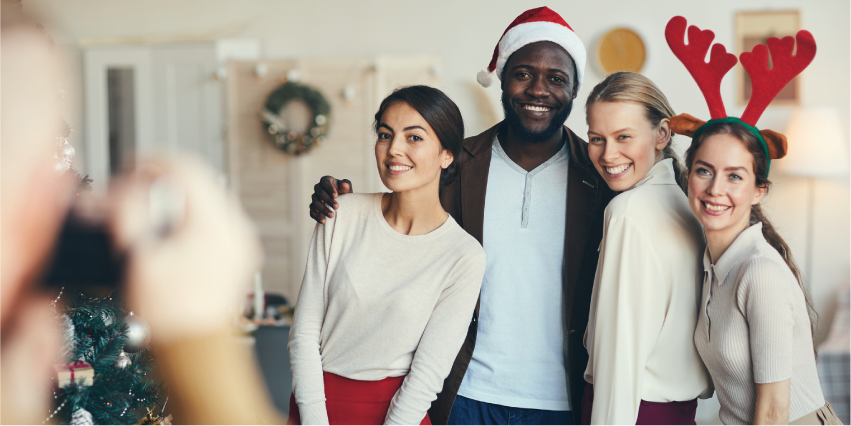 Holiday celebration ideas
As we wrap up, let's not forget what the holidays are all about: celebrating and appreciating each other and our teams. With a little creativity, you and your team can come up with your own ideas for spreading holiday joy, but here are five ideas to get you started:
Lunch celebration
Transform any meeting by giving restaurant or food delivery gift cards to your team. Before the meeting starts, give your employees a chance to order lunch and have it picked up or delivered around the same time. Then, have employees eat together in the meeting. It's a win-win: employees get to bond and receive exactly what they want while you don't have to do the guess work of choosing a restaurant.
Wellness days
Rather than inviting employees to a holiday party they may not enjoy, why not give them wellness gift cards and extra time off to recuperate? Employees can take photos of themselves relaxing at the spa, in a fitness class or doing meditation and post it on your employee Slack or MS Teams channel.
Giving back
Holidays are all about giving back, and with so many people in need, volunteering is a perfect way to bond employees while giving back to the community. Although Blackhawk Network found that 57% of people want to give back to causes this year, volunteering directly in the community may not be an option for some. Instead, consider a more flexible charitable contribution: the Giving Good gift card. 3% of every purchase is donated by Blackhawk Network, at no cost to you or your employees. Plus, with multiple brands on each card, your employees will appreciate being able to shop at multiple retailers. They'll feel great purchasing a gift of their choice while knowing they contributed to a meaningful cause.
Trivia party
Finish a company-wide meeting with a trivia contest. For virtual meetings, you can use platforms like Water Cooler Trivia or Random Trivia Generator. Winners can be rewarded with virtual prepaid cards.
Host a local outing
With many local venues being open this year, consider having your holiday gathering at an unexpected place, like a museum, aquarium or escape room near restaurants or a food court. No matter the location, your employees will appreciate getting out of the office. After teambuilding, give employees prepaid cards to spend on lunch together.
Want to learn more? Check out our full range of holiday rewards here.
Happy holidays to you and your employees!
---
Source: 2022 Holiday Branded Pay Study, Blackhawk Network, 2022