As a people leader, you likely know that finding the perfect holiday gift to please all your employees is no easy feat. We get it; you want to give a gift that is personal, speaks to your company's brand and recognizes the hard work your employees have contributed all year long. It's no secret that the pandemic and inflation have contributed to employee burnout and personal and professional stress, making spreading some holiday cheer more important than ever.
Don't gift another ugly sweater
If you want to be a smart gifter, you have to understand what the recipient wants and needs. Receiving a bad gift-or worse, not getting a gift at all-sends the wrong message to your staff. In fact, a Blackhawk Network study found that almost half of employees think their employers are bad gifters and only 35% of employees believe they're getting a gift at all. It's not all doom and gloom though; the good news is that 4 in 10 employees would consider joining a new company if they were to give out holiday gift cards. This number is even higher with younger employees, with 62% of Gen Z and 50% of millennials stating they would consider joining a new company if they were to give out holiday gift cards. So how do you become a smart gifter? Give employees what they want.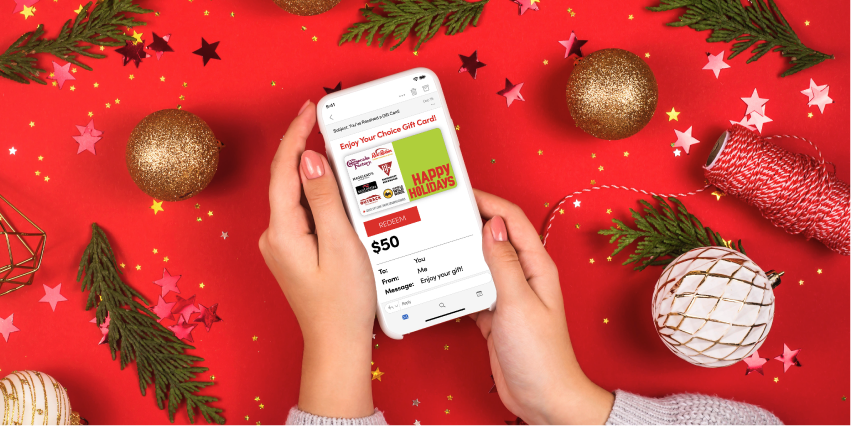 Gift smart: Digital gift cards and rewards
These days, employees are pretty internet savvy. Employees look for flexibility and choice in their gifts, and with so many people shopping online, they want instant gratification.
In fact, a study by Blackhawk Network found that digital payments and contactless payments accelerated three years ahead of expectations. This same study revealed that 77% of people find it appropriate to receive a digital gift card during the holidays, with millennials and Gen Z reporting this sentiment at 82%.
With many employees being mobile-minded, going digital with your holiday gifts is the smart choice. Not only have employees rated gift cards and prepaid cards as the #1 holiday gift for 16 years in a row (84%) above other choices like an inflation bonus (48%), extra vacation days (40%), food (29%) and office parties (15%), but you get to reap the benefits of convenience, bulk ordering and free shipping.
So, what types of gifts do employees prefer? Read on to learn about the top-rated employee gifts so you can get them exactly what they want.
#1: Mastercard® or Visa® prepaid cards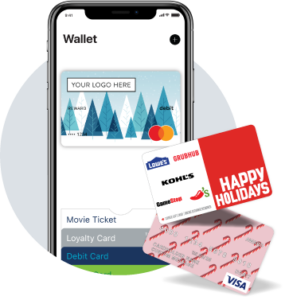 Mastercard or Visa prepaid cards are the #1 requested reward by employees. They offer employees the most choice as they can be redeemed at all major retailers. If you're looking for a reward that is delivered instantly and provides the most flexibility to your employees, consider purchasing the Virtual Prepaid Mastercard and Virtual Visa Prepaid Cards. Not only do they offer quick and contactless delivery (and no shipping fees), but you can purchase them in bulk. Digital cards also offer the same customization options as our physical cards, so you can add your company logo, employee name and personal message to truly recognize each employee. Some virtual prepaid cards even offer a wallet-enabled option, meaning your employees can add their rewards to their favorite mobile payment apps, like Apple Pay, Samsung Pay or Google Pay.
#2: Amazon gift cards
Choice is a major factor in how employees rate gifts, so it's no surprise that Amazon gift cards are ranked as #2 on employees' wishlists. Gifting an Amazon card lets you meet your employees where they are: online. Online shopping has become so common that 59% of Gen Z and millennials plan to buy their holiday gifts online this year, and ¾ of these generations would rather receive a gift card and shop for themselves. Whether your employees want to treat themselves to a luxury item or do some last-minute shopping for family and friends, this gift card can meet their needs.
# 3 Grocery store gift cards
With inflation at an all-time high, some employees prefer receiving practical gifts to purchase everyday essentials. Whether your employees use these cards to purchase items for a holiday meal or to offload the cost of the regular grocery bill, they will likely feel that their employer cares about them.
# 4 Restaurant gift cards
Do you enjoy eating and laughing? Do you know someone else that likes to eat and laugh? With many people favoring experiences over physical items, it's no surprise that restaurant gift cards rank #4 on the list. Consider giving a Choice gift card that can be used at multiple restaurants, like the Happy Holidays Dining Choice Card or the Food and Laughs Choice Card.
# 5 Merchant gift cards and multibrand gift cards
Rated as #5 on the list, merchant and multibrand gift cards give employees the freedom to choose their own gift. Multibrand gift cards in particular give employees the ultimate flexibility. With multiple restaurants, retail and entertainment brands on one card, your employees can eat out, go to the movies and shop with loved ones-all in one day. In fact, Blackhawk Network found that 71% of people want to purchase gift cards that can be used at multiple retailers. When you give your employees choice, they'll associate you with a fun holiday outing with loved ones or a well-deserved self-care day. To give your gifts extra holiday festivity, send your employees the Happy Holidays Choice eGift cards.
Bonus gift: eGift codes
Though many employees are avid digital gift card users, some may still prefer the option of receiving physical gift cards. To meet the needs of all your employees, give eGift codes. eGift codes can be redeemed through Blackhawk Network's online gift catalog for either a virtual or physical gift card. From hundreds of restaurants to shopping, travel gift cards and more, we take the guess work out of gift giving so you can focus on what you do best: caring for your employees.

Gift Smart: recognize your employees with the gift of choice. For more last-minute holiday gift cards, check out our full range of gift cards here..
Source: 2022 Holiday Branded Pay Study, Blackhawk Network, 2022