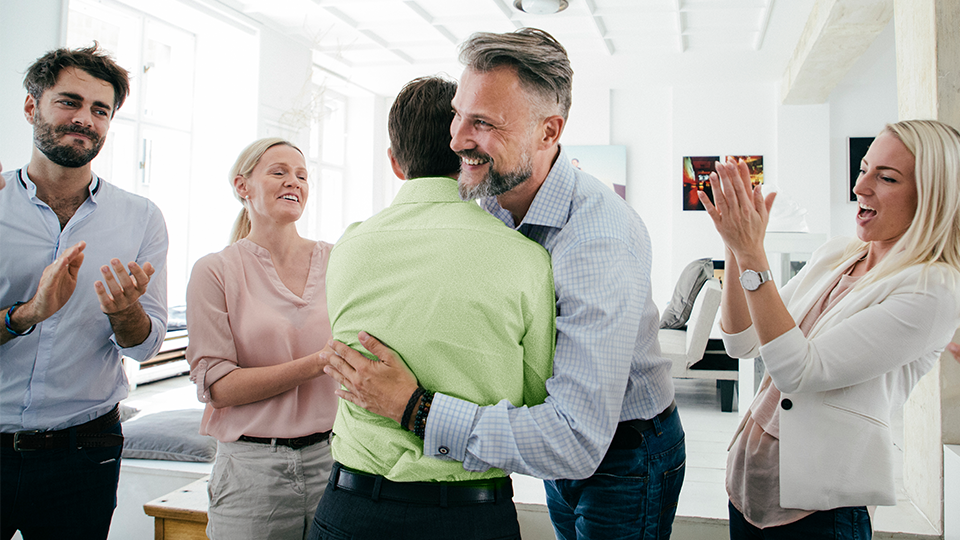 The employee experience has never been more important. Especially when research suggests the 'Great Resignation' won't be handing in its notice next year. In fact, six out of 10 global workers surveyed (61%) felt confident that they'd find a new job in six months or less - even as the recession looms. Not only that, inflation has already caused more than half of them (51%) to look for a second job.
However, it's not just employees that the rising cost of living is affecting. In 2023, many companies will be looking to implement operational measures to help drive growth and reduce outgoings. For example, if they haven't done so already, they might find themselves pivoting towards a remote working model in a bid to cut costs.
But how are you supposed to keep your staff happy and engaged when they're not sitting in front of you? It's a growing concern for businesses worldwide and is something that just can't be overlooked, even if your employees are out of sight. After all, an engaged member of staff is one that's enthusiastic and positive about their work and the company they represent. And that enthusiasm feeds productivity, advocacy for the company and a motivation to achieve; all of which have a visible impact on the bottom line.
Without a doubt, there's a lot to consider to get things right. And that's why we've put together the latest insight into the most important employee engagement trends for 2023; all designed to help keep your company's talent, culture and successes afloat.
The year we put mental health front of mind
The pandemic shined a light on the impact ill health can have on a company. Over two years later - and with another recession looming - staff need to know you care about their health. Whether it's 2023 or 2040, this attitude isn't going to shift any time soon.
The thing is: gym memberships and other perks that come with a good employee value proposition (EVP) are great, but it isn't just your employee's physical health you need to take care of these days. With 70 million work days being lost every year due to mental health, the modern employer needs to be part of the solution for staff struggling with their mental health.
Worryingly, almost half (46%) of the workers surveyed by Westfield Health this year were close to burnout. And although working from home has restored balance for some, this isn't a blanket fix for everyone. Alarmingly, the same study at Westfield Health revealed that people who'd been WFH for the last 18 months were more likely to feel at risk of burnout (50%) than those who'd been going to the workplace (41%).
Despite considerable work being done by mental health charities to help shatter the stigma, it's still difficult for some employees to talk. Mind research revealed that 51% of the employees would feel "uncomfortable" or "very uncomfortable" disclosing poor mental health. Worse still, 27% of those who took time off told their employer it was for a reason other than their mental health.
To engage our employees properly in 2023, we need to let them know work is a safe place to open up. It's all part of creating a more personalised experience; something we endeavour to deliver to customers, so why shouldn't our employees benefit from it too?
Employees crave more personalised experiences
People don't like to feel that they're just a cog in a machine - and rightfully so. Instead, having a more personalised experience within the workplace enables your employees to feel both empowered and fully understood. Not only that, it gives the chance to make appropriate positive changes within the business based on real insights. A personalised approach has also been found to reduce time wasted, whilst drastically improving relationships between employee and employer.
But this personalised experience doesn't just have to come from the top level.
Team members are also a wonderful source of encouragement and accountability. Forming smaller teams of between 7 and 10 members can have a greater impact on staff engagement. Churning out work to a large corporate machine can be unmotivating, but placing your staff in smaller teams will enable them to really feel like they're making a difference.
This is a trend that will continue into 2023 and long after. But there's one aspect of the modern workforce that makes things a little more complicated: flexible working.
Recognise that flexible working is here to stay
Flexible working isn't going away anytime soon.
In fact, polls have predicted that more than two in five employers (41%) will have adopted hybrid working by 2023.
Unfortunately, the flexible working environment can prove challenging for both staff and their employers. Essentially, for all its benefits, there are practical difficulties that can arise from this model. For example, how do you check in on a regular basis without miscommunicating that level of managerial trust? How do you ensure you are supporting staff on an individual level outside of your weekly company Zoom? At the end of the day, flexible working is a relatively modern concept. And it's a tricky balancing act that employers will still be looking to figure out throughout 2023 and beyond.
However, flexible working isn't just limited to working from home. Instead, it encompasses two factors: remote working and on-site work hours.
With the advancement of technology, employees are now expected to work on a global scale. Surely it's only reasonable then to allow them to take advantage of these technological improvements by letting them work remotely?
But what's the upside for the employer? Generally, happier, healthier staff. Working from home provides a more harmonious work/life balance - thus having a positive impact on an employee's overall mental well-being.
The same can be said for flexible working hours. In fact, a firm in New Zealand shortened the working week from 5 days to 4 and revealed that:-
Stress levels decreased by 7%,
Work/life balance was perceived to improve by 24%
Staff engagement increased by 20%
By helping your employees gain some control back in their life, your business can benefit tremendously.
However, this style of working unquestionably blurs the lines between home and work life for some. And keeping employees engaged from afar isn't always as easy when you can't check-in in person.
Embrace the 'quiet quitters' next year
'Quiet quitting' was the big talk of 2022. But it's neither a passing fad nor something employers should fear.
You could actually argue that this movement was a necessary reaction to the pandemic; a rocky period that threw work-life balance out the window for many. Particularly, those who entered the workforce for the first time: Gen Z.
And as we continue to introduce younger workers into the workforce throughout 2023, you can bet this trend isn't going to change.
2023 is only two years away from Gen Z - the group that first coined the phrase 'quiet quitting' - making up a staggering 27% of the workforce. With that in mind, this is one employee engagement trend that just can't be filed at the bottom of your to-dos.
So what does 'quiet quitting' actually entail?
Reports suggest quiet quitting could include things like:
Saying no to projects that aren't part of your job description
Leaving work on time
Refusing to answer calls, emails or Slack messages after hours
Changing your mentality so that you're less emotionally invested in your role
This doesn't sound too unreasonable, does it? Especially when younger workers are reportedly pushing themselves harder than ever to "prove themselves". In fact, over half (51%) of younger remote employees are reportedly worried their manager "has doubts about their productivity", leading to 44% working longer hours and 37% skipping lunch breaks.
All the while we continue to operate remotely and walk the precarious tightrope between home and work-life balance, this is something that will continue to have an impact. So what's the best thing to do? Look at your flexible working processes to ensure remote workers are feeling engaged; instead of feeling resigned. And one way to do that is to ensure your company culture is alive and well.
Company culture creates workplace belonging
Creating and maintaining company culture is challenging enough in the workplace, let alone remotely.
However, it's never been a more essential ingredient for keeping your employees engaged and any potential candidates interested; in fact, 46% of job seekers said culture was one of the deciding factors in the application process, while 88% found it at least relatively important.
But when vacancies are at a record high and candidates are spoilt for choice, how do you ensure your culture includes tangible benefits in a virtual world?
To keep employees engaged in 2023, companies will need to create a sense of belonging for their staff. Studies show that when employees experience a sense of belonging in the workplace, they are:
9 times more likely to believe people are treated fairly - regardless of their race
3 times more likely to look forward to coming to work
3 times more likely to say their workplace is fun
But how do you do this in a hybrid working world?
Well, the little things go a long way. Creating a team playlist is a great way to get everyone involved and share part of their identities with one another. Tools like JQBX and Spotify Group Session are tailor-made to keep work culture alive long-distance. You can also help build and maintain working relationships by hosting informal chats where workers can mix and introduce their family members, friends or even pets to one another. GitLab has a whole documented process around this sort of thing and it's only set to become more popular throughout next year.
But what else do employees need to stay engaged in 2023?
Upskilling and training - the long-term investment
More often than not, employees will eventually seek professional growth or opportunities for development at work - it's entirely normal.
However, the 'Great Resignation' has shown us that staff are in search of better jobs. And we need to buck the trend of employees feeling compelled to leave their current roles to scratch this itch.
Jobs should be made more appealing, and increasing training helps to meet this need.
People tend to have an innate desire to learn and fulfilling desires will inevitably lead to higher employee engagement.
Training staff also has the additional benefit of providing teams with skills they can utilise in the workplace; in turn, this makes them even more valuable. Plus, training your staff will give you a larger pool of talent to choose from when looking to fill new roles.
Get it right and the ROI will blow the cost of any training course out of the water. Especially considering over half (61%) of our future workforce say they could picture themselves staying loyal to one place of employment for ten years or longer. And if younger staff stick around, they'll develop with you as opposed to going elsewhere; a huge bonus for your organisation.
Essentially, promoting from within a business has huge long-term benefits compared to taking on a brand-new employee. The recruiting process is more streamlined, there's less risk as you already know the employee's strengths and weaknesses, and it's more cost-efficient. The prospect of promotion also drives engagement higher. It's a win-win situation.
Staff will continue to seek regular rewards
Rewarding your staff gives you a great opportunity to demonstrate how much you value them.
Employee recognition automatically increases job satisfaction and engagement and so productivity increases alongside the quality of work.
Remember, rewards do not necessarily have to be monetary; offering gift vouchers, experiences and intrinsic rewards have a number of benefits that boost staff engagement more than their monetary equivalent.
At the end of the day, we have an obligation to our employees. They are, after all, a reflection of our brand and its greatest ever asset. By meeting their needs, engagement will naturally increase, reducing recruitment costs and employee turnover. Not only that, but it will boost mental well-being, improve productivity and increase your profit margins too.
Essentially, engagement means building a workforce of satisfied employees that will happily go the extra mile. Ultimately, that's the key to your future success - in 2023 and beyond. But no matter the year, good employee engagement is one trend that will never go out of fashion.
Looking to engage prospective employees or increase employee retention? Blackhawk Network is here to help. Just click here to get in touch or call 0203 948 7877.