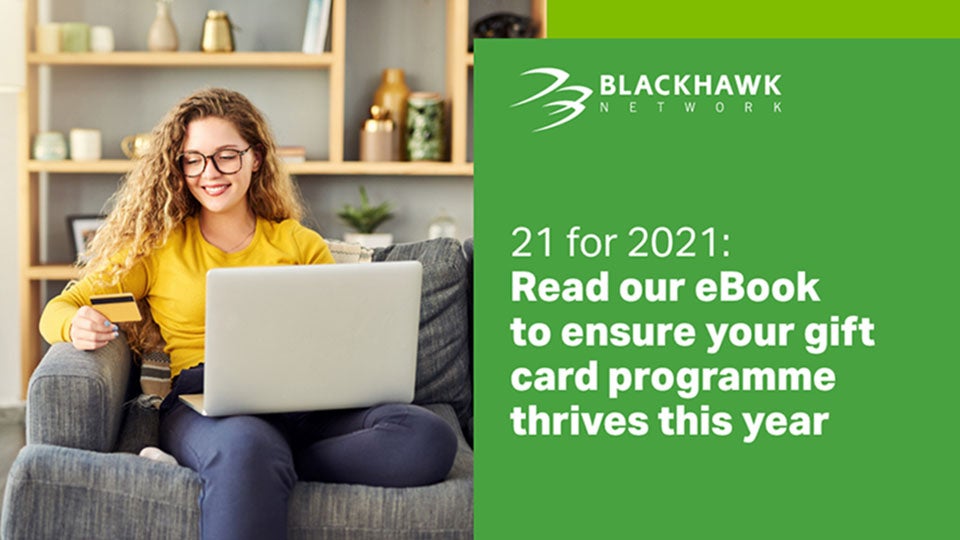 The past twelve months have seen an explosive growth in digital products with a rolling year growth of 96.2%*. Here at Blackhawk Network, we believe this growth will likely continue well into the future.
Alongside this, lockdown measures have clearly affected high street brands. The situation will potentially leave them in a precarious situation with the need to consider how to best adjust their business, not just to survive, but to thrive throughout 2021 and beyond.
Bearing this in mind, now really is the time to ensure you have a digital proposition and an eCommerce solution that really works for your business. 
 
Earlier this year, we launched our '21 Ways to Grow Your Gift Card Programme in 2021' infographic. We have now expanded this into an in-depth eBook, which  can be downloaded by using the form on the right.
 
Our new eBook focusses on helping you to answer the following questions:
Are you making sure those who want to find your gift card programme can?

Are you engaging your customers with the best buyer experience possible?

How can promotions power up your gift card programme and increase revenue?

Are there audiences out there that you haven't yet considered?
Find the answers to these questions, plus many more by downloading the eBook today.
___________________________________________________________________

Whatever your gift card and eCommerce goals are for 2021, Blackhawk Network can help you achieve them. Our flexible and secure CashStar platform offers everything you need to market, sell and distribute your digital and physical gift cards across multiple channels and devices.
Find out more about our Digital Commerce Products today.
*Gift Card & Voucher Sales Analysis and Outlook UK, Full year report 2020